Benderlink for Crown Version 3.1
From ATTWiki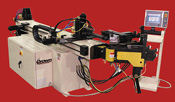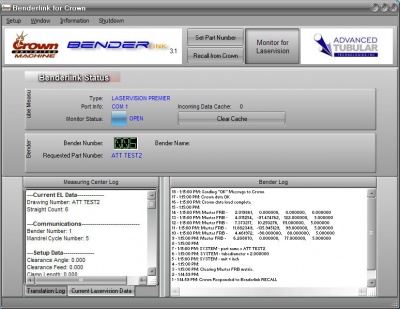 This version of Benderlink for Crown is designed to make Crown benders simulate Eaton Leonard Premier controls.
From 2.2 to 3.1 - MAJOR VERSION CHANGE
PROTOCOL CHANGE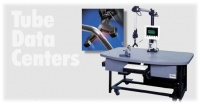 The major change between the two packages is that the protocol has changed from ATT Protocol to the Premier protocol.

Because of the changes to Windows version of Laservision, the ATT Protocol no longer functions properly in the Laservision software. This version of the Benderlink for Crown is required for communication to Windows-based Laservision measuring centers.


Because we have changed to the Premier protocol, this change effectively allows any Crown bender to communicate with any Laservision or ROMER measuring center in the world without update or modification to the measuring center. It is no longer necessary to purchase the Competitive Bender Interface option for the Laservision.
INTERFACE CHANGE
Also, the interface was updated with a new skinned look. New buttons were added (Set Part Number, Recall from Crown, Monitor for Laservision, and Clear the Cache)
From 3.0 to 3.1 - INTERFACE CHANGE
Slight adjustments were made to the interface in order to aid operators in understanding that this version of Benderlink requires that the operator press the Recall from Crown button before performing a correction loop at the Laservision. This is the message that the operator now sees with this version: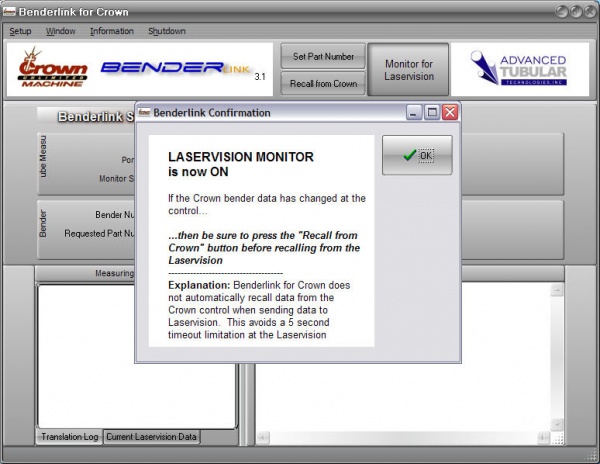 From 3.0 to 3.1 - COMMUNICATIONS CHANGE
The Premier simulation code is adjusted to allow for more robust reception of data being sent from the Laservision. The issue is one of timing - as the legacy Premier protocol is very specific in its requirements regarding control-line hand-shaking.
External Reference
See this web page for more information: http://www.advancedtubular.com/blink_crowneb.htm